Cabernet Sauvignon 2021 Bourbon edition
About wine
The wine has a pronounced aroma of cranberries, rowan, notes of chocolate and caramel. The wine has a gastronomic taste with medium acidity and a long berry aftertaste.
Degustation notes
Color: dark ruby
Food: red meat dishes, pork dishes, red cured meat
Serving temperature, ° С: 16-18
Manufacturing features
For maximum unlocking the potential, cold maceration is carried out for 3 days and post-enzymatic maceration for 5 hours. A minimalist approach with minimal mechanical intervention is adopted. mechanical intervention. The full-bodied wine is aged for 12 months in oak barrels of Jim Beam" oak barrels, which convey its unique character.
Technical information
Volume, l: 0,75
Grapes: Cabernet Sauvignon
Region: Ukraine
Alcohol, % vol.: 14,0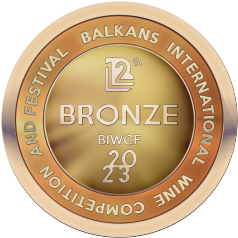 2023